The Best Dynamic Microphones 2021 – Top 6 Legends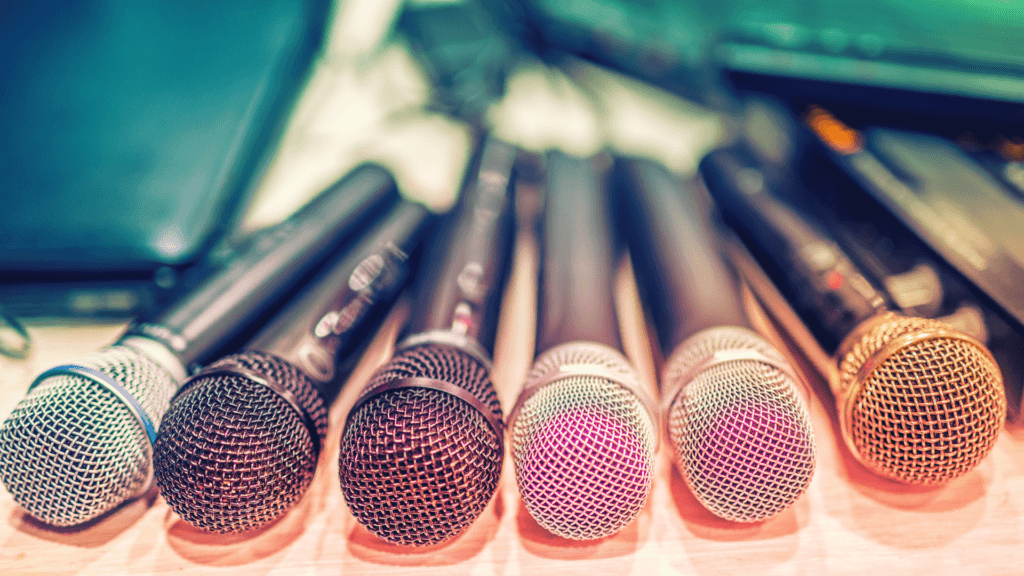 Compared to condenser mics, dynamic microphones are much more robust but with a limited frequency response and lower sensitively. This makes them ideal for live situations and louder instruments. They are perfect for vocals, dialogue, drums, guitar/bass amps, and anything else that has a bit of oomph, or with a requirement for less background ambience being recorded. Dynamic mics are a must for any studio or live environment requiring versatility. They do not require phantom power (48V), but they do require an amplifier or audio interface to power them.
When looking for a dynamic microphone you should consider 1) what sound source(s) you want to record, 2) its sound characteristics, and 3) it features. I will cover all of these points in this list detailing the best dynamic microphones in 2021, ordered by price so you can make the best-informed decision possible for your needs and budget. If you're a pro, an amateur, or just a hobbyist, you can't go wrong with any of these microphone choices.
---
Best Dynamic Mics Under $100
Shure have been making microphones since 1931. Starting out as a radio parts company, they evolved to become one of the most successful pioneering microphone companies in the world. The SM57 is one of their most famous microphones, visit any studio in the world and you'll be sure to find several of them lying around. Don't underestimate it, just because of its low price point.
Robustly built and sleek in appearance, the black coated die-cast steel is made to withstand the hardest of knocks and drops. Does your drummer smash his snare drum? No problem. Does your sneaky guitarist like to turn his amp up to 11? No worries. You left it on your driveway and your Grandma accidentally drove over it? Relax… It's virtually indestructible, which is why it's favoured for live situations and loud sound sources.
It has an integrated pneumatic shock mount system to absorb rumbles, and reduce background noise whilst picking up excellent detail. At heart it's a microphone designed for instruments, but it also sounds pleasant on vocals. It delivers a lovely presence whilst capturing the clarity and upper midrange of any sound source.
I personally like to use it on my guitar amp. It's perfect when combined with a large diaphragm condenser microphone to get a lovely blended electric guitar tone. Being designed for use at close range, it's able to handle high gain, high pressure, explosive sounds without distorting or feedbacking. It has a frequency response of 40Hz – 15kHz, but if you need a little extra air, you can add some EQ in your DAW or mixer.
For the price range, you can't go wrong with this mic, it will make an excellent addition to any studio or stage environment. Plus you'll own one of the most famous microphones in the world, not bad for $89.
The SM58 is another iconic microphone by Shure. If you have watched a live TV performance, broadcast or been to a live concert, chances are you have seen this microphone on stage. It's the go-to microphone for live vocals, due to its build quality, comfy design, isolation abilities, and superb sound.
Like the SM57, it's sturdily built, also with an internal shock mount to absorb rumble, and internal pop filter to absorb plosives. It feels heavy, well made, and comfortable in your hand. Perfect for any vocalist who likes to move around on stage. Although, it shares the same element as the 57, it has a different grill design. This allows the singer to get closer to the microphone, creating more proximity effect.
Its cardioid polar pattern is perfect for the studio or the stage to be used in close proximity whilst eliminating background noise. The SM58's frequency range is 50Hz – 15 kHz with a boost at 4 kHz. This creates a tone that is warm and present, allowing the vocals to cut through the mix easily. It does lack a little 'air', but that is the case with most dynamic microphones.
When I need a good quality vocal recording, but background noise is an issue, this is the mic I reach for. If you need an excellent budget microphone for live vocals, or to isolate a voice in your studio, then don't hesitate to buy this mic.
---
Best Dynamic Mics Under $500
Do you want one dynamic mic, that won't break the bank, with the most versatility possible? Drum roll please… Allow me to introduce the Sennheiser MD 421-II. This mic has been Sennheiser's most popular one for 35 years. This classic microphone is famous for its clear and linear sound production. It's a stable workhorse that will be your best friend in any studio setting.
The MD 421-II is an industry standard for recording drum toms, so despite having a plastic body, its built well, and has a strong metal grill able to withstand any harsh impacts, even from the craziest of drummers… However, that's not it's only use. This is an excellent allrounder mic, it also sounds exceptional on vocals, guitars, percussion, brass and well… anything really. That's why it's so revered by sound engineers.
It has a frequency response of 30Hz – 17kHz and is renowned for producing clear, punchy sound, whilst capturing the sound source accurately, as it sounds in real life. If you're looking for flattery, this mic won't give it to you. It has an option of 5 bass roll offs, to reduce the lower frequencies if you desire. It's also known for its extreme low distortion throughout the frequency range, which makes it ideal for loud sound sources of all kinds.
If you want a versatile, that you can go to for any situation, then this mic is for you. It will be your reliable workhorse, and for the price it's a bargain.
Ever heard of the album Thriller, by Michael Jackson? Of course, you have. Want the same mic he used for that album? Well, look no further than Shure's SM7B. That is one of the big selling points of this microphone, and one that convinced me to buy it. I really love this microphone, and its iconic history just adds to its charm. If you're also familiar with Joe Rogan's podcast, you'll see that he also uses this mic for himself and his guests.
This is another study mic from the legendary Shure company. Built in a metal casing, allowing it be used with a suspended, or a normal mic stand. Like the RE20 microphone by Electro-Voice, it keeps out background noise whilst providing clear, detailed recordings with accuracy and neutrality. The SM7B has a frequency response of 50Hz–20kHz, perfect for vocals. Its capsule provides a warm tone, that is smooth, with clear bass and a decent boost in the upper midrange.
This mic also features a bass roll off switch and presence boost switch, which are some great added features. Like some other mics on this list, it also has a built-in pop filter and shock mount for protection against bumps. In addition, its advanced electromagnetic shielding keeps out hum caused by electronic devices.
I love this mic and I have used it for many years. It's never let me down, and I've never had any technical issues with it. It's always the microphone I go to for vocals, or when I'm making a YouTube video with dialogue. If it's good enough for one the best singers on the planet, and the biggest podcaster on the planet, then I'm certain that it's good enough for you too.
---
Best Dynamic Mics Under $1,000
I wanted to include a higher budget microphone in the list for you to consider if you're looking for something fancy. Allow me to introduce the Sennheiser MD 441U. Think of it like an upgraded 421. What makes this dynamic mic stand out, is that it sounds similar to a condenser microphone. It's more sensitive and captures more detail, whilst still eliminating background noise effectively.
The MD441U is stylish in appearance, reminiscent to retro radio microphones. Its sleek silver casing and mesh, make it look very streamlined appealing to the eye. The grill design reduces plosives and breath noise, making it great for vocals and dialogue. It contains a spring-based capsule shock mount, providing excellent rejection of unwanted noise, and a humbucking coil to reduce electromagnetic interference.
The condenser character of this mic is down to its excellent diaphragm, with a flat frequency response, able to capture precise transients with its supercardioid polar pattern. This mic can handle high sound pressure levels with no distortion issues. It picks up the sound source with precision, detail and clarity. Stevie Nicks, Sam Fender, George Ezra and Kevin Parker have all made use of the sound quality of this mic.
Its frequency response is 30Hz – 20kHz, making it the most dynamic microphone on the list. It features a 5-way high-pass filter if you wish to reduce the bass response on your sound source. The second switch enables a 5 to 7 dB boost from 2,200 Hz – 20,000 Hz, adding more presence and air to your recordings.
Due to the features of the mic, it can be adjusted to any situation, voice or instrument. It's a brilliant microphone if you can afford it, but for that price, be careful not to drop it… You may want to think twice before using it on stage. However, it will be a fantastic addition to your studio as its capabilities are endless. The sound quality for a dynamic microphone is unbeatable.
---
Dynamic Mics – You Cant Go Wrong
You can buy a great dynamic microphone for a surprisingly low cost. Not only a great one, but industry standard ones that are used by professionals around the world. They have so many uses, that regardless of your needs, any from this list will be sure to prove itself useful. This article provides you some timeless, classic dynamic microphones that will not let you down. They are industry standard for a reason. I know you'll be happy with any one of these choices. It's just up to you how you put them to use!
I hope you enjoyed this article, and found this updated list for 2021 helpful. If you have any questions or comments, please feel free to write them below. New to recording and want to know everything you need to get started? Check out my article How to Recording Music at Home.
Chris