Best Studio Monitors for a Home Studio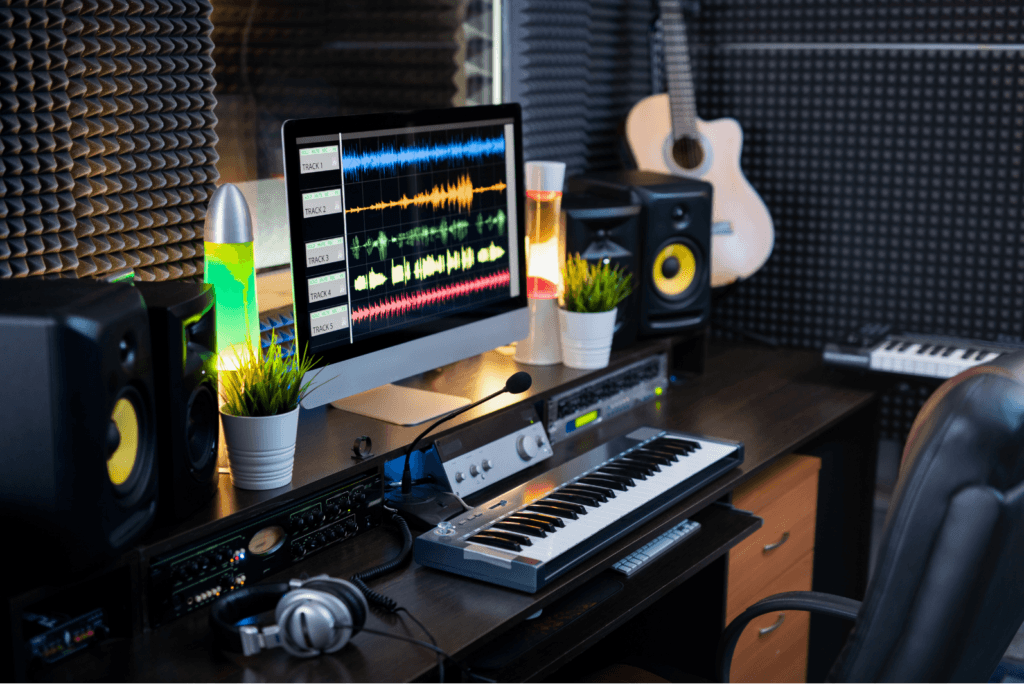 If you want to produce music that sounds as good as the pros, then you need a pair of studio monitors. Why? Because they are the essential, industry standard listening tool that professionals use to mix and master music efficiently. A good pair of studio monitors will allow you to critically listen to your music in detail, so that you can work on the imperfections, little nuances, and mix your music the way you want it to sound.
Why can't you just use a normal speaker, and what is the difference between speakers and studio monitors? My article 'What is a Studio Monitor?' is dedicated to answering these questions, and exploring the ins and outs of studio monitors. So, if you're not 100% what a studio monitor is, be sure to check it out.
Luckily these days, you can buy a budget pair of studio monitors for around $250+. In this article I'll look at the best studio monitors for a home studio in 2021, listed from low to high price. I'll be sure to update this list as the year progresses, so feel free to bookmark this page and come back to it when necessary.
---
Genelec 8010A – Studio Monitors
No studio monitor list would be complete without a pair of Genelecs. These monitors are the smallest on the list, but that doesn't mean they don't pack a punch. If you're a producer or sound engineer who likes to work on the move, these monitors will be ideal for you. You can literally put them into your backpack and take them where you please.
They may be small, but their performance is big. The sound is uncoloured, accurate and powerful. The Genelecs 8010As are cased is die-cast aluminium, and the grills covering the woofers are metal. Making them solidly built like a tank. These monitors have been designed with transport in mind, even the inputs are cleverly tucked away to avoid any damage that may occur on the move. They also come with a pair of mounting shocks to eliminate any surface vibrations.
They may have a small price and size, but don't underestimate them. The Genelec 8010A are superb value for the money. If you want a compact, well-built, and easily transportable pair of studio monitors, then you should buy the 8010As.
---
Mackie CR4 – Studio Monitors
Being at the lower end of the price spectrum, the Mackie CR4s don't deliver sound as well as others on the list, however they are still a worthy contender. You may not get the same accuracy as more expensive studio monitors, but they're more than adequate for basic mixing and working with multimedia projects. The frequency response could be a bit flatter, but for a beginner or amateur, these are a good starting point to work with.
The Mackie CR4s are built-well, the quality is high, plus they are very portable and compact. Unfortunately, other than the inputs and power button on the back, there are no controls for altering the EQ. These days most monitors have these so that if you have a bad sounding room, you can compensate the monitors by boosting or reducing certain frequencies.
The green line around the monitors is something of an acquired taste in my opinion. Half of me likes, the other half doesn't. All in all, for the price, you can't really go wrong with these monitors. They're perfect for a beginner, or anybody on a budget, and they do the job well.
---
PreSonus Eris E5 – Studio Monitors
PreSonus are well known for creating affordable, reliable, and professional audio gear. And the Eris studio monitor series live up to that expectation. First of all, they just look good. They have a sleek, elegant and modern design. The grey casing is nicely contrasted with the blue LED PreSonus logo and blue mesh speaker.
Apart from just looking stylish, the Eris series are robustly built, and sturdy. The audio quality is superb, they have an accurate sound with excellent frequency response. Their high-quality woofers are made from Kelvar, which help to disperse frequencies in a more constant pattern, resulting in a clearer overall sound. There are several input options on the back, and EQ controls labelled as acoustic tuning, enabling you to adjust the monitors to your room sound and size.
Overall, for the price these are a very impressive set of studio monitors that won't break the bank. They are certainly up there with the KRKs, and will be sure to provide consistency and reliability when mixing your own music.
---
KRK Rokit 5 G4 – Studio Monitors
These black studio monitors with the yellow cones are absolute classics. The KRK Rokit series have been popular for many years now. KRK even boast on their website that they are 'the most used monitors in the world', which is no doubt true. Their sleek, elegant and yellow design really makes them stand out from the crowd. In a sense they have almost become as famous for their looks, as for their sound.
Apart from just looking stylish, the KRK Rokit series have a neutral, accurate, and balanced sound. Their delivery of frequencies is clear, and it's easy to perceive the difference between the low, mid, and high frequencie. The latest generation features an upgraded appearance, internal specification, and a set of new drivers from Kevlar for an improved sonic delivery.
The back features a volume knob, and a digital graphic EQ interface, with 25 settings so that you can adjust the monitors accordingly to how your room sounds. KRK even include an app which helps to assist you with EQing and positioning your monitors.
KRK Rokits have been used in recording studio for generations, and no doubt will continue to be. If you want a classic, reliable, affordable, and stylish pair on monitors to get started, then the KRK Rokits are a superb choice.
---
Yamaha HS5 – Studio Monitors
Ok, so I may be a little biased with these monitors because I own a pair. Not the 5-inch HS5s, but their bigger brothers, the 7-inch HS7s. I absolutely love these monitors and for good reason. The Yamaha HS series are inspired and based on Yamaha's famous NS10s. These speakers actually started out as consumer speakers in the 70s and were never intended to be studio monitors. They started to gain recognition because they have a very accurate and neutral sound. Because of this, they suddenly became immensely popular worldwide with music producers and engineers, all flocking to have them in their recording studios as reference mixing speakers.
Not so long ago, Yamaha decided to create a new series inspired by the NS10s and they do not disappoint. Firstly, the appearance of the HS series is very similar to the NS10s, with the classic black casing, and white cone speaker. You can also buy them in white which looks very classy. They deliver a clear, precise, and smooth sound that will assist you well for any mixing or mastering purposes. The back features EQ adjustments for mid and high frequencies if you're room is unbalanced
These are some robust and sturdy studio monitors that will last you a lifetime. I've had mine for around seven years now and I still use them almost every day. They are a little higher in terms of budget, but certainty worth the cost.
---
Studio Monitors are a Critical Listening Tool
You don't have to break the bank to buy a professional level pair of studio monitors. There are so many excellent options out there that cover a range of budgets suitable for modern day music production. Without a good pair of studio monitors, you will never be able to mix or master accurately. Monitor are the critical listening tool for any studio.
I hope that from my list of the best studio monitors for a home studio, you'll be able to pick a pair that works well for your needs. Which pair are you considering buying? Let me know in the comments.
Chris