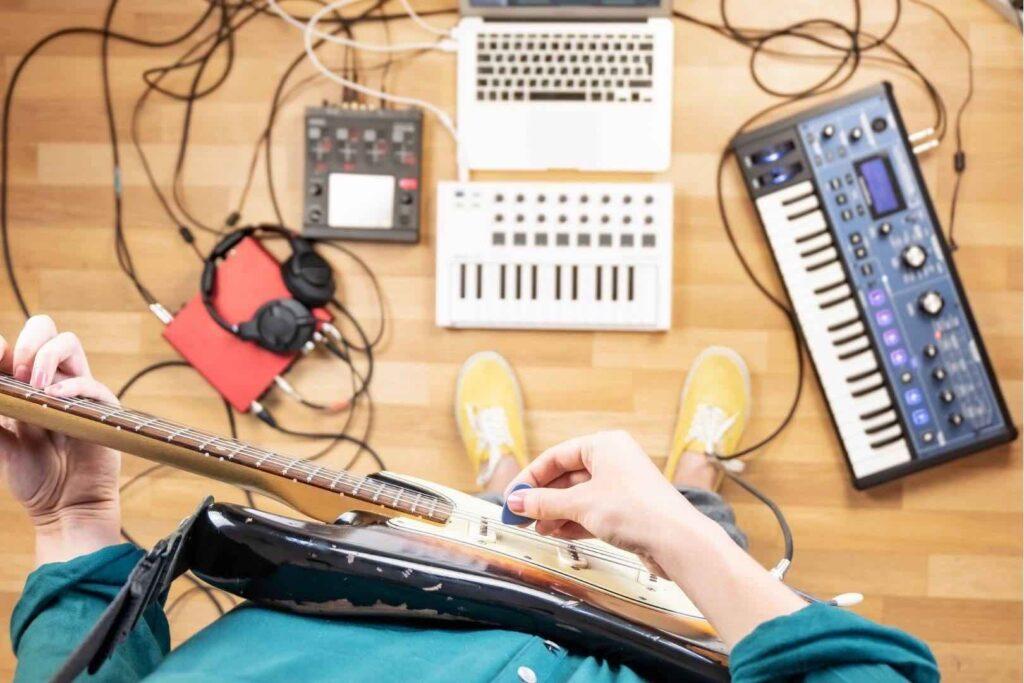 One of the most convenient ways to record guitar on a computer is by using an audio interface. In that way you don't have to worry about amplifiers or cabinets. To sum up, an audio interface is the centre of any professional or home recording studio. It allows you to connect instruments, microphones, headphones, speakers, and other external gear. I have a dedicated post title 'What is an Audio Interface?' if you would like to read more about them in detail.
If you want to only record guitar and nothing else with an audio interface, you probably just need a basic one, with a simple I/O configuration. In this article I'll cover the best audio interfaces for guitar, starting with the lowest to highest priced. This list will give you a wide variety to choose from, to suit all needs, and all budgets. I'll cover well-known companies that make quality products, tried and tested, with a solid reputation. No matter what you're looking for, I'm certain this article will help you to make an informed decision.
---
First you need to know how many inputs you need. Do you just need to record your own guitar? Two, or more at once? And what about the method? Will you be recording by directly plugging it into the audio interface, and using plugins that simulate amps and pedals? Or do you want to record your acoustic guitar or amplifier with studio quality microphones? In that case you'll need an audio interface with both TRS 1/4-inch inputs and XLR inputs. In this list I'll cover a range, so you'll have a good selection to choose from. Some with just 1-2 inputs, some with more. Remember if you're confused about the different types of inputs and outputs an audio interface has, refer to the article I mentioned earlier.
---
IK Multimedia iRig HD 2
The IK Multimedia iRig HD-2 Audio interface is the simplest, cheapest, and easiest to use on the list. It's a no nonsense, straightforward device, which is perfect for guitar players that are just starting out who don't want to complicate themselves in any way. It's so small you can fit it in your pocket, whilst on your way to friend's house, practice space, or recording studio. This sleek little interface features on input for your guitar and an amplifier output, which can be used to send your recording on your computer to an amp if need be.
On the other side you have a headphone output and USB connection. The middle features volume and gain controls, an FX/Thru switch, plus a clip for a microphone stand. An underestimated feature that I love as it means you can elevate it to an easily accessible level. The front also has a blue LED, which gives you an indication of if your input level is too hot or not. IK Multimedia have really managed to fit a lot of features on to this little gem. The only downside is that it doesn't have any microphone inputs, but you can't expect it to have everything for the price point and size.
Finally, the iRig HD-2 comes with a bundle of amp and pedal plugins to give you an array of tone options to choose from. I'd really consider this audio interface if you want something affordable, simple, and minimal.
---
Focusrite Scarlett Solo
The Focusrtie Scarlett series of audio interfaces have gained incredible popularity of the years and for good reason. They look great, they sound great, they're versatile, and very affordable. They come in range of models, with the Solo being their smallest and cheapest, all the way to the 18i20 is which their largest and most expensive. I actually own the 18i8 and I love it.
All of the Focusrite Scarlett series have an 'air' button, which when pressed mimics a more expensive preamp also made by Focusrite, so you have a diverse selection of two preamp sounds. The Solo is small, sleek, and easy to use. It features one microphone input, one instrument input, and a headphone input on the front of the audio interface. The back features two line outputs which you can use for studio monitors (speakers), enabling you to mix effectively.
The Scarlett series also come with bundle of bonuses, including free plugins/software instruments, access to discounted products, and some free versions of Pro Tools and Ableton, two excellent DAWs. It's difficult to go wrong with a Focusrite Scarlett audio interface. So, if you're looking for something reliable, well-built, affordable, with superb audio quality, don't hesitate to at least check them out.
---
PreSonus AudioBox USB96
The sturdy looking, tank like audio interface, is robustly built by the notoriously reliable company PreSonus. A company well known for manufacturing and designing excellent audio hardware and software. And actually, if you purchase one of their audio interfaces, you get access to their superb DAW Studio One, plus their Studio Magic Plug-Suite, which features a large selection of virtual instruments, plug-ins, and effects.
The PreSonus AudioBox is minimalist, small, and rugged, making it very easy to transport from one place to the next. Perfect if you're a musician on the move, who likes to record in various locations. The front features two inputs which can either be used for instruments or microphones. On the back you can find a headphone input, two line outputs, plus a MIDI I/O configuration. So, if you also like to dabble with MIDI instruments, this would be a better option than the Focusrite Scarlett Solo.
This a very budget friendly audio interface from a very reputable company worth checking out. Within the software bundle an amp simulator is included, which could be a selling point for many guitarists who don't want to use a physical amp.
---
Audient ID4
Moving onto a bulkier audio interface now. The Audient ID4 audio interface shines due to it's ease of use. The larger size of this device provides more spacing for the controls, making it really comfortable and convenient to press the mute button, adjust the two gain knobs, monitor knob, and large virtual control wheel which can be used for volume, or a variety of parameters within your DAW by pressing the ID button. This really makes your work flow smoother and more efficient.
It features one combo input which can accept instruments or XLR microphones on the back of the device, close to your line outputs which you can use for studio monitors. The front has a dedicated instrument input, closely situated to a dual headphone output, meaning two people can use headphones at the same time. Perfect for those collaborative recording sessions.
The build quality of the ID4 is just superb, it's cased in a classy looking metal, built to withstand any knocks or bumps that may occur in any studio. The overall construction of the casing is well-made and the knobs feel sturdy and pleasant to interface with. On top of all the above, when you buy the Audient ID4 audio interface, you gain access to a free suite of creative software, including Cubase, and a wide variety of plugins and virtual instruments. For the price point, this a brilliant audio interface.
---
Universal Audio Apollo Twin
I just had to include an audio interface from Universal Audio, because well, they're simply one of the best audio equipment manufactures out there. But with that comes a much higher price point. They're create extremely high-end audio products, but are they worth it? If you can afford them, absolutely!
Universal Audio's interfaces produce exceptionally high audio quality that is almost flawless. The Universal Audio Appollo Solo delivers exactly that, plus it just looks elegant and timeless. The touch controls, knobs, and buttons integrate seamlessly with your DAW for a super-efficient workflow. All of which can be used for various shortcuts and programming parameters of your choice.
There are two combo microphone/line instruments on the back, next to two line outputs. The front features a dedicated instrument input and a headphone output. The Universal Audio software included with their audio interfaces is just mind-blowingly good. That includes award winning plugins that replicate the sound of vintage and modern gear costing thousands of dollars. Plus, a huge array of amp and pedal simulators that you'd never know where just plugins if you only heard the audio. So, you'll easily be able to get whatever tone your heart desires.
Yes, this is quite a pricey audio interface, but what you get is the audio quality that you'll find in professional recording studios and access to software that is hard to match. If you have a higher budget, then seriously consider the Universal Audio Solo, or its bigger brother, the Universal Audio Twin.
---
Choose the Best Audio Interface for your Needs
Now you have a list of the best audio interfaces for guitar. Whatever your needs are, I hope that at least one of this audio interfaces stands out. All of the options above come from very reputable and reliable manufactures, plus they all come with software to help get you started. Regardless of which one you choose, this will just be the beginning of you recording journey, and your gear exploration. Just be careful though, not to get too hooked on the gear. The most important thing is how you use it after all.
Which audio interface do you like most on the list? Let me know in comments below.
Chris