Pros
+Professional sound
+Included software is superb
+Tonnes of features
+Multiple polar patterns


Cons
–Not the best stand
–USB cable should be longer



Polar Pattern: cardioid, figure-of-eight, omni

Max SPL: 110 dB <3% THD

Frequency Response: 20Hz – 20kHz

Adjustable Gain Range: 0 – +36 dB

Sensitivity:
1 mV/Pa

Headphone Output
1/8″ TRS active stereo
USB microphones have really come into their own over this past decade. That is to say, their build quality and sound quality has developed exceptionally. With the popularity of live streaming, podcasting, and recording music at home, there has never been a bigger need for hassle free, budget, and easy to use microphones. And that's the beauty of USB microphones compared to their XLR counterparts, they are simply plug in and play. There is no need for any extra audio hardware like an audio interface. It keeps your set up minimal and with companies like PreSonus developing such high-quality USB microphones, you know that your audio will sound professional too. PreSonus's Revelator is their newest USB microphone release and it doesn't disappoint. In this article I'll thoroughly review the PreSonus Revelator, detailing its design, what's included, the sound quality, and whether I think it's worth it or not.
---
Sleek and Robust Design
The first thing that I really like about this USB microphone is the design. It has a sleek, minimalist appearance that is robustly built, which is surprising, considering it's made entirely out of plastic. It conveniently comes with a microphone stand, which is great as a lot of USB microphones don't. It's a desktop stand that can swivel up or down, so that you can angle it towards the sound source you are capturing. It's quite a sturdy little stand, all things considered. However, some have complained that it doesn't eliminate floor noise rejection so well. So, it may be worthwhile to also buy a shock mount, if you don't have one already.
On the front of the microphone you have a preset button. Right out the box, the PreSonus Revelator has four presets to switch between; broadcast, AM radio, special effects, and delay. These can be modified, customised, or completely changed so that you can easily and seamlessly switch between different sound options, without having to even use your computer. This is a great feature if you want to improve your workflow, when using your USB microphone for different purposes.
Underneath, you have a monitor button to directly listen to your recordings and computer playback separately or simultaneously. Pressing this button three times enables gain adjust mode to set up an appropriate level for your recordings. The wheel knob below is used to adjust the gain, volume, or mute the audio when pressed. The LEDs conveniently change colour depending on what mode they are set to. Needless to say, this is a USB microphone that has been well–thought–out to speed up your productivity.
---
All the Software You Need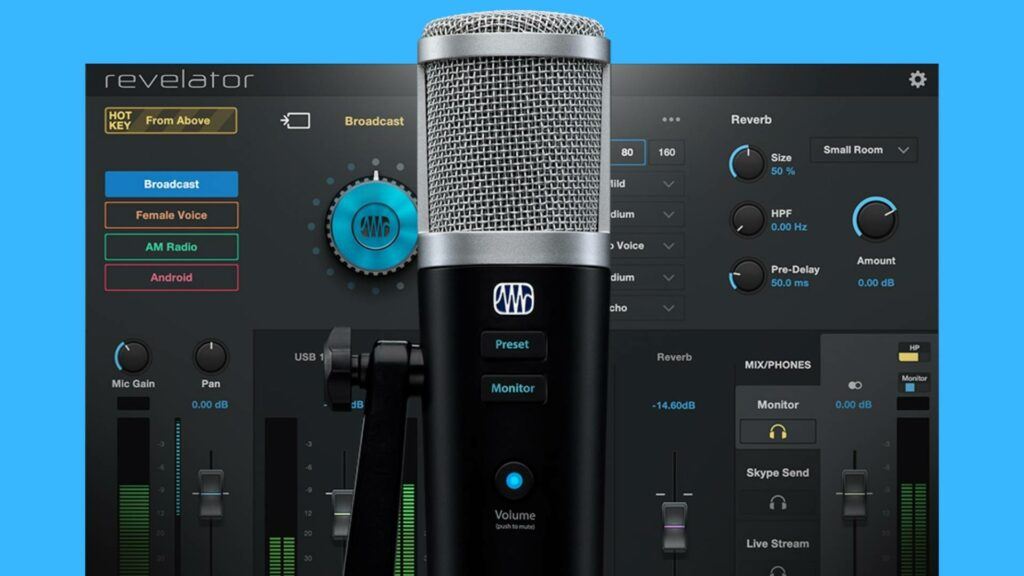 Like all PreSonud products, the Relevator comes with their DAW Studio One. DAW stands for Digital Audio Workstation and it's the audio software where you'll do everything you need to record, edit, mix, and master audio. You can read more about DAWs in my full guide. Studio One has a notoriously brilliant reputation. It's versatile, customisable, user friendly, and is packed with a tonne of features and stock plugins. You also get access to PreSonus's Studio Magic Suite which includes more plugins, tutorials, virtual instruments, and sound libraries. With such a powerful DAW and so many plugins available at your fingertips, you can practically get any sound you like with this USB microphone. You really get everything you need in one bundle.
---
Audio Quality on Par with Professionals
What about the most important aspect of any microphone? The audio quality. The PreSonus is a condenser microphone, not a dynamic microphone. Meaning it's more sensitive and is better at picking up little nuisances and detail for recordings. If you want to read in-depth about dynamic verses condenser microphones, be sure to read article about different microphone types. This is quite a versatile condenser microphone because you can switch between cardioid, figure-of-eight, and omni polar patterns. Making it well suited for a variety of recording purposes.
You can record all the way up to 96kHz and the audio quality is superb. It's punchy, well-balanced, and has plenty of low-end. This is a good all-rounder microphone, well suited for vocals, voice-over, and would do a pretty decent job recording an acoustic guitar as well. For the cost, it competes well with other microphones in the same price range. Plus, the fact that you can easily adjust the sound of the mic using Studio One, gives you the option to play with EQ, compressor, limiters, filters, gates, and effects. It's really easy to get a sound fit for your purpose.
---
The Final Verdict
With so many USB microphones on the market these days, it's getting harder and harder to choose between the options. It seems like audio companies keep developing and marketing new ones, with added features ones to simply outmatch their competitors. In my opinion, that's exactly what PeeSonus are doing here. Has it paid of though? I believe so. The added preset button is a good move which I haven't seen on other USB microphones to date. The loopback feature is also really handy for live streamers, gamers, podcaster, or musicians recording over dubs.
The rest of the features though, like switchable polar patterns, can be found on other USB microphones, although not necessarily for the same price. All in all, this microphone is superb value for money. Especially considering the software that PreSonus give you access to. You really can't go wrong with Studio One. I hope you enjoyed my PreSonud Revelator review. Why not read some of my other articles and recommendations for USB microphones, for various budgets, live streamers, and musicians.