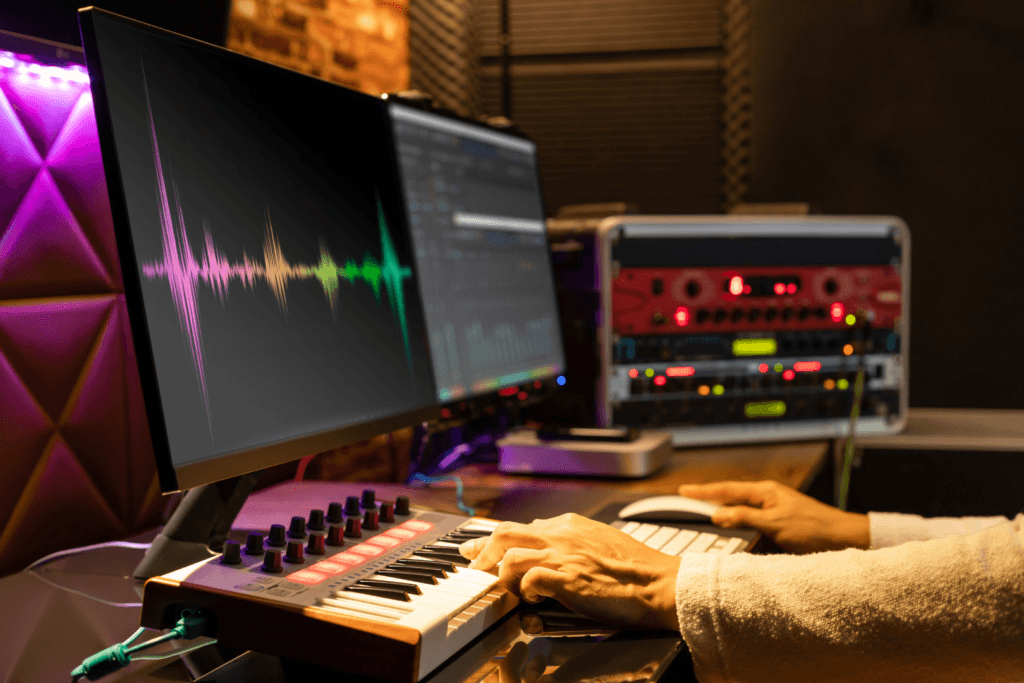 When you think of compression in terms of media, it's usually a bad thing. Why? Because when we compress an image, audio file, or video file to reduce its size, it also loses some of its quality. However, an audio compressor is by no means a bad thing. Actually, most sound engineers would argue that it's essential in order to create great mixes and I would agree.
Understanding the intricacies of a compressor seems very complicated at first. When you look at any analog or digital compressor, you're confronted with intimidating knobs, numbers, and strange parameter names like make up gain, attack, release, and the strangest of all, knee. What the heck does a knee have to do with a compressor? Lucky for you, I'm here to help. In this article I'm going to answer 'What is an Audio Compressor?' by detailing why we use compressors, how they work, and by looking at each parameter, what they're for, and how to use them. Sit back and grab a coffee because this will be an interesting read.
---
Why do we use an Audio Compressor?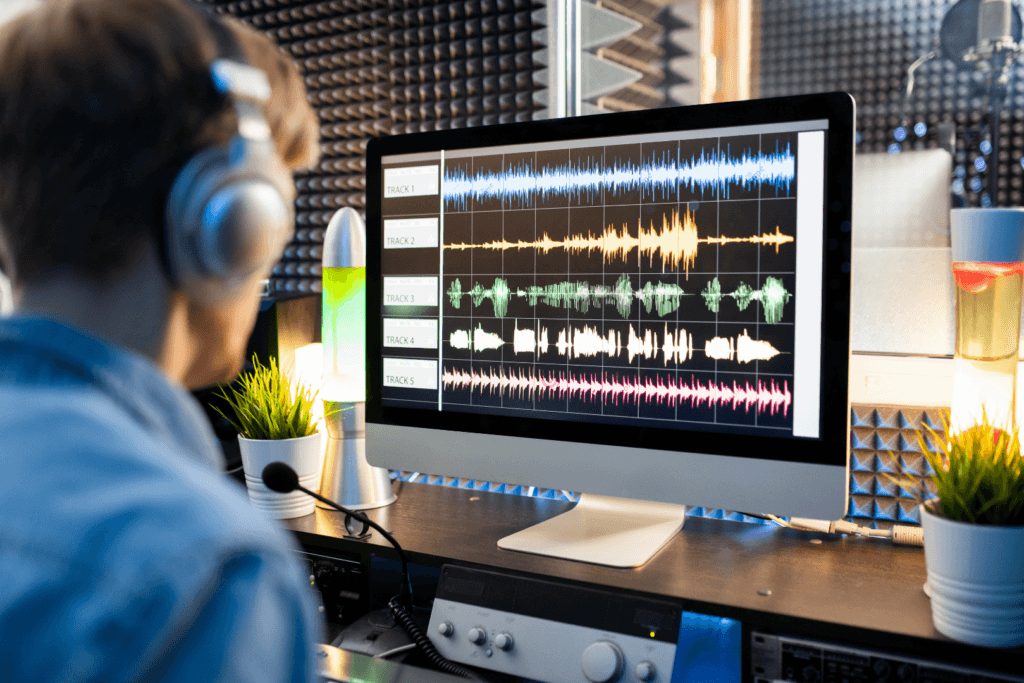 First let's talk dynamic range. Dynamic range refers to the range from the quietest part to the loudest part of any musical performance. This could a drummer, singer, guitar player and so on. There is no consistency in music, but plenty of dynamic range, and we want that right? It's what makes music exciting. It's how songs are built up to a climax and brought down to a whisper.
Yes, dynamic range is a great thing but when it comes to mixing, it can be a problem. Think of a metal band, you have a pounding drummer, a screaming vocalist, and thundering bassist, and two guitar players both competing for loudness with heavy distortion. Typical right? Now you have a lot of sound sources all competing for space. If you were to leave a song like that unmixed, it would just sound like a mess.
We have to somehow tame all of these substantial sounds in a way so that they don't lose their natural dynamic range, but control them enough so that they all work together in unison. We don't want it to sound like they are all fighting each other. This is where an audio compressor is king.
---
How does an Audio Compressor work?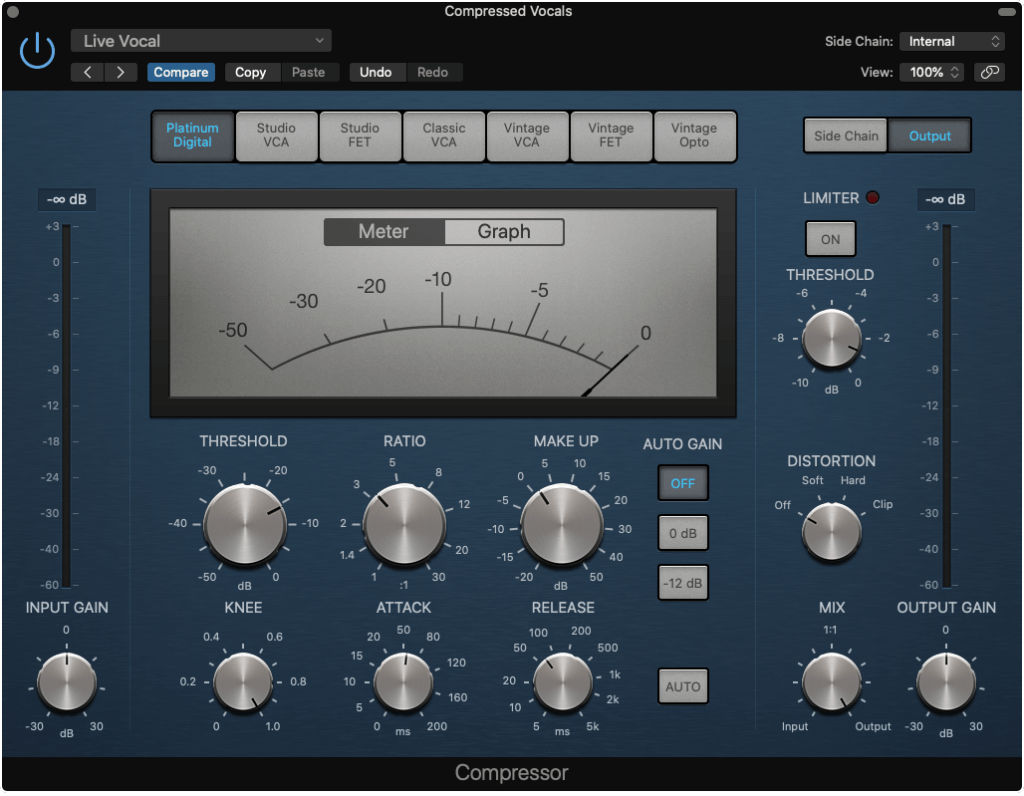 This is where an audio compressor is king. An audio compressor helps reduce the dynamic range of any sound source by allowing trimming down the loudest parts and transients of any sound source, which means we can increase the overall volume. It essentially helps to tighten up a performance. To understand how it works fully, we need to look at all of the controls individually.
---
Threshold
When you use any audio compressor, you want to set a point when it starts working. We call this the threshold and it's measured in dB. Decibels are a confusing measurement because for mixing we don't want anything over 0dB. If it exceeds 0dB -known as peak level- it will clip and distort. So, when working with threshold you will set it to minus something depending on your goal.
Let's take a look at this vocal recording here. There's a rather big transient at the beginning and one area where a lyric is particularly quiet compared to the rest of the recording. We can use an audio compressor to fix this.
By setting the threshold to -10dB we're telling the audio compressor to only reduce the audio when it reaches that level. In this example we just want to reduce the more extreme peak. As you can see by the compressed vocal, the peak has been reduced and the dynamic range has been decreased, so it's now tighter. As a result of this we can increase the overall volume of vocal track.
---
Ratio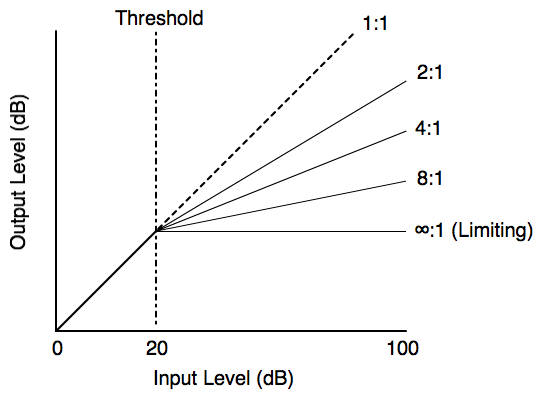 The ratio determines how much the signal is turned down by once it goes above the threshold. The higher the ratio, the more compression will take place. Let's look at some examples.
If the ratio is set to 1:1, then there will be no compression.
If there is a ratio of 2:1, for every 2dB of audio going over the threshold, you will get 1dB over the threshold in return. If the ration was 8:1, for every 8dB over the threshold, would get 1dB over the threshold in return, and so on.
---
Attack and Release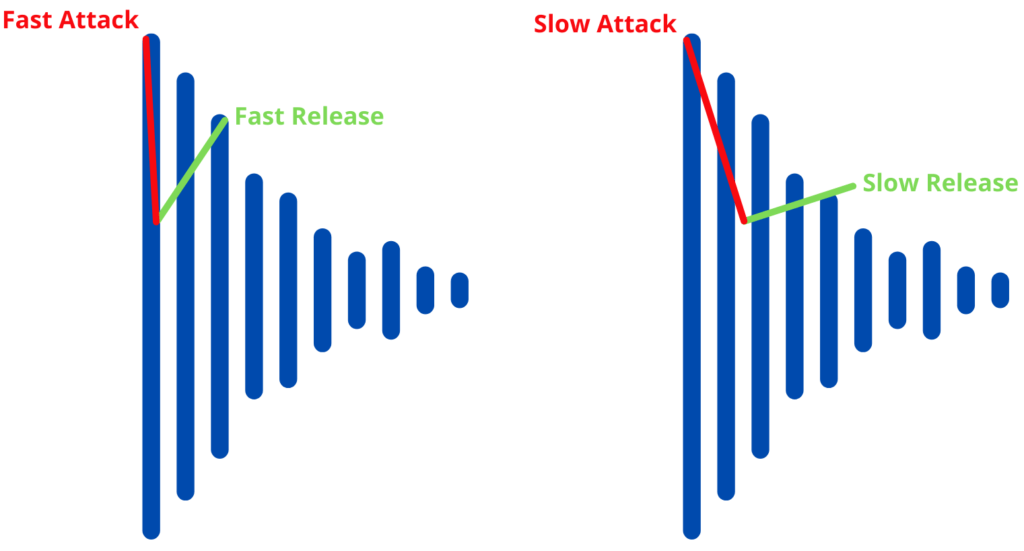 Attack measured in milliseconds, determines how quickly the compressor reacts to the input of the sound source. Release, also measured in milliseconds, is how long it takes for the compressor to stop acting on your signal.
---
Makeup Gain
When you implement audio compression, the signal is reduced. To compensate for this, we turn up the makeup gain to the appropriate amount.
---
Knee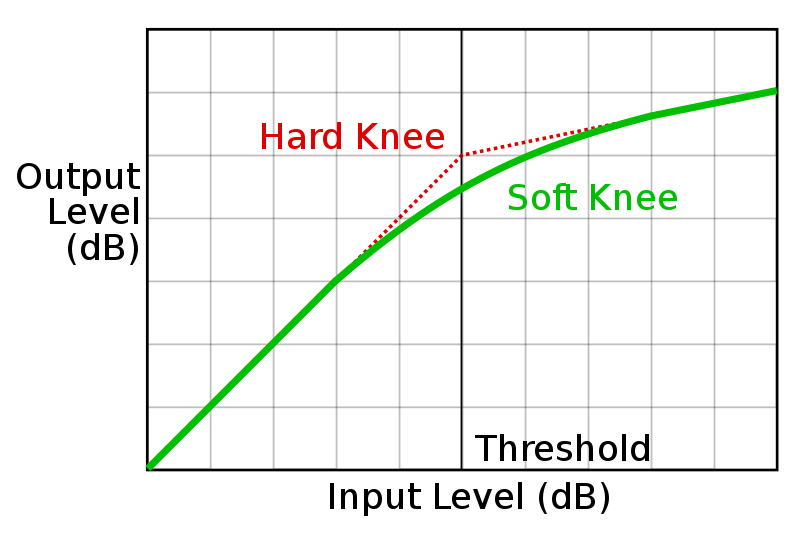 Definitely the strangest named control until you see that the image. If you set your compressor to have a hard-knee, then the compression will be more aggressive and obvious. If you set your compressor to have a soft-knee, then the compression will be gentler, having a smoother sound.
---
How to Use Compression
There are no real rules when it comes to compression because it completely depends on what you are trying to achieve. However, the general guidelines are don't over compress. For decades there has been a loudness war going on. Record labels, studios and producers have all been trying to outdo each other, trying to make their tracks louder than their competitors, in the hopes they would stand out more.
This unfortunate trend has caused songs overtime to be the victim of losing most, if not all of their dynamics. They have become more and more compressed overtime, losing their natural dynamic range. Luckily now most online streaming platforms such as Spotify normalise their music catalogue, which has kind of ended the need for any loudness war.
---
Audio Compression is a Learning Curve
Now you know the answer to the questions 'What is an Audio Interface?'. But this is just the beginning. Learning to use an audio compressor effectively takes practice. Don't feel worried though, once you get the hang of it, there's no going back. It will be your greatest asset in creating professional sounding mixes. Open up your DAW, choose a compressor and start playing about with it. That's how you learn. Not sure which DAW to choose, read my article here. I hope you found this article helpful. Still confused about a compressor? Feel free to ask my any questions in the comment section.
Chris