Focusrite Scarlett Series Review – Are They Really Worth It?
The Focusrite Scarlett series. Why are you seeing them everywhere? Are they really any good, or just overhyped? These are the same questions I asked myself before I bought my own online. In this comprehensive review I'm going to explain exactly what's included in the Focusrite Scarlett series, the build quality, the sound quality, and if I think they're worth the price tag.
The Scarlett series come in 6 different models and 2 hardware bundle options. The bundle packs include a pair of headphones, a microphone and mic cable. The only difference between the models is how many inputs and outputs they have. Essentially the more inputs you have, the more instruments you can record.
More outputs give you additional options to listen to your music. Inputs and outputs also enable you to connect external hardware to your audio interface, such as a compressor, limiter, EQ unit etc. For a fully detailed explanation on the different types of inputs and outputs you can find on an audio interface and what they all do, please click here
---
Plenty of Software to Get You Started
On the Focusrite website they boast that the 3rd generation of Scarletts come with a large range of software to get you started. This is perfect if you're new to recording, or just want to expand your already existing software collection. But what is actually included and is it anything worthwhile?
First of all, you get access to Ableton Lite and Pro Tools First. Both of which are the free versions of their audio software. However, this is a bit of a marketing ploy from Focusrite, because you can easily download these free versions without purchasing a Focusrite interface, sneaky… Nonetheless, these are two very powerful pieces of software where you can record, edit, mix, and master your music. Both DAWs come with plenty of sounds, loops, virtual instruments, and effects
You also receive one free virtual instrument download from Audio Addictive Keys, drum samples, and some plug-ins from Softube and Focusrite. These include a reverb, delay, distortion, EQ and compressor plug-in. You also gain access to the Focusrite's plug-in collective, providing instant access to more free software and discounts.
Finally, you receive The Focusrite Control software which is where you can control your audio interface, and a three-month free subscription to Splice. Splice is an app that gives you instant access to millions of samples. So, if you're an electronic music producer and you need a funky bass line, a dirty sounding synth, or a lo-fi drum beat, you can effortlessly search and trial samples to see what fits.
Upon plugging in your Scarlett audio interface, you are prompted to click a link directing you to their registration page. From there the process is very straightforward, they even provide you with video tutorials on how to set up your interface, which I thought was a nice touch. After downloading Focusrite Control you're ready to begin using your audio interface, you can then choose to download all of the additional software from your products page when you're ready.
---
Stylish, Sleek & Robust Build Quality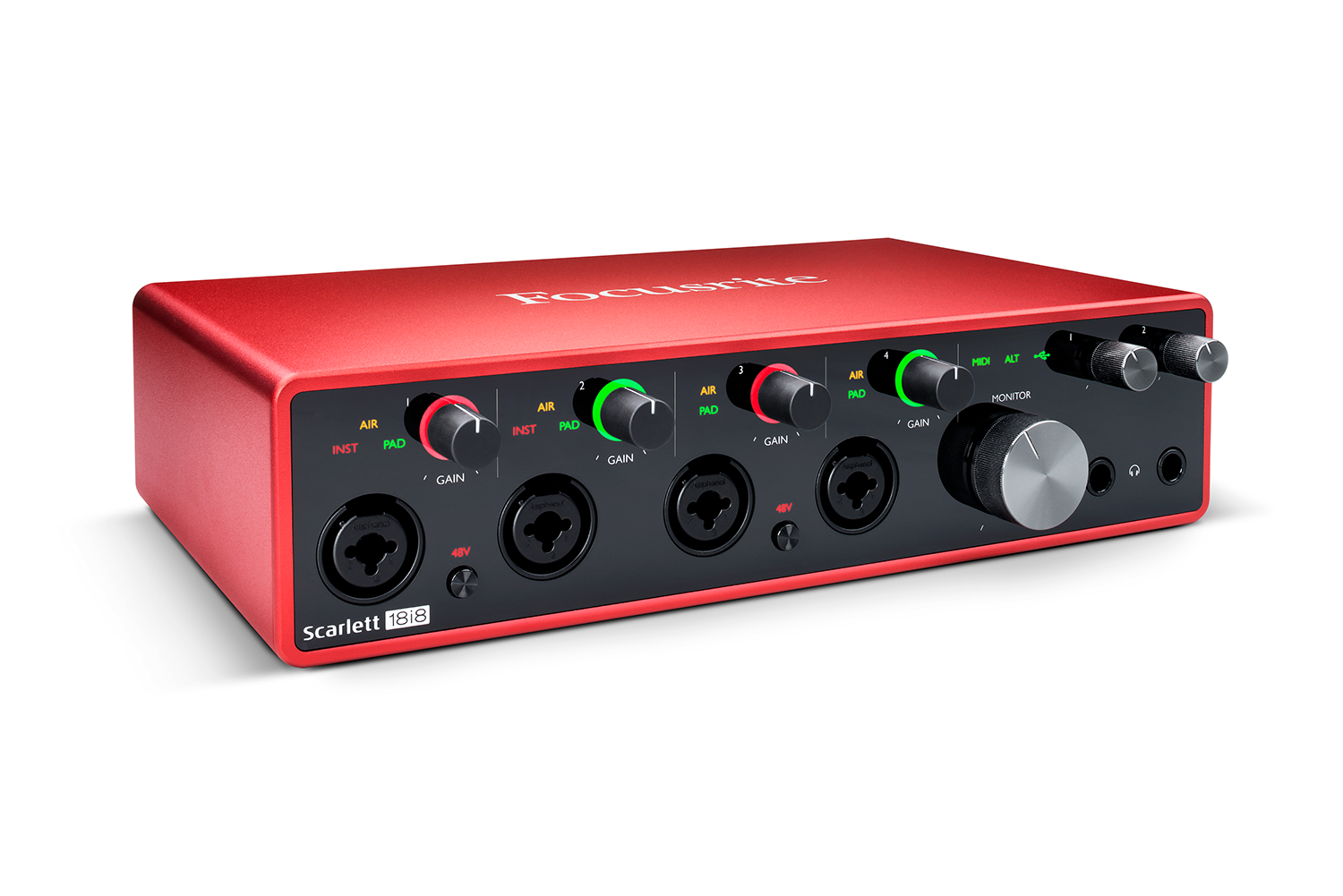 I really love the build quality and appearance of the Focusrite series. They come in a stylish, red anodized aluminium casing that looks sleek and sophisticated. The aluminium casing is heavy, robust and well-made. The front and back casing is plastic but it's sturdy. Plus, it's a lovely contrast to the red aluminium chassis. The controls and buttons are durable and pleasant to interact with, with no wobbly movements or stability issues. I have no complaints about the build quality, especially for the price! I'm confident that my Scarlett 18i8 will stand the test of time.
On the front of the audio interface you have some eye catching LEDs telling you which features are enabled or disabled, plus some active monitoring LEDs surrounding the gain knobs. Not only do they tell you when your signal is too loud by turning red, they are even customisable. You can change their colours from the traditional red, yellow and green combination to a series of blues, purples and whites. I think this is a really cool and unique feature that I've not seen on any other audio interfaces before. The Scarlett Series light up your studio and look timeless, no matter where you place them.
---
Exceptional Sound Quality
So, I've discussed what's included, the build quality, but what about the most important thing. The sound quality. Do they sound any good? Remember these are relatively budget friendly audio interfaces. Expensive audio interfaces tend to have better quality components and preamps, which leads to better audio being recorded.
Don't fear though, the preamps on the Scartlett series are superb, clean, accurate, punchy and detailed. What's more is that the 3rd generation Scarlett series come with the added 'air' function. When pressing this button, the Scarlett interface replicates the Focusrite ISA classic transformer-based mic preamp, a much more expensive interface. What does this mean? It means you get two preamp sounds in one audio interface, lucky you! The Focusrite Scarlett preamp sound and the ISA preamp sound. When the air mode is engaged you instantly get more presence, warmth and definition. Originally this feature was only on the Focusrite Clarett series interfaces but they have now incorporated it on their Scarlett series audio interfaces too.
Apart from the above video, I wanted to provide my own before/after samples so that you don't just get the perspective from the company. Below are some audio samples I recorded with, and without the air mode engaged. Let's see if you can hear a difference.
First let's start with some ambient electric guitar.
Next up is me playing my acoustic guitar whilst singing.
So, could you actually hear a difference? If you have a decent pair of headphones or studio speakers, you should have heard a difference. It is subtle but when the air mode is enabled, there is more clarity, depth and presence to the recordings. I think it's more noticeable when I'm singing and playing the acoustic guitar than with the electric guitar. I'm certain that if you were to record more instruments then the difference would be even more noticeable.
---
An Audio Interface You Can Depend On
Overall, I'm really impressed with the Focusrite Scarlett series audio interfaces. It's easy to see why they have become so popular in home recording because they are such good value for the money. The software bundle give you everything you need to start making great music, the build quality is exceptional, and the sound is precise, clean and accurate.
If I was to give one con, it may be to add a mute button to the front of the audio interface. It's great being able to control everything from Focusrite's software but sometimes it's handy to be able to quickly reach down and press a button to stop all sound. Especially if a sound is too loud or like myself you accidentally cause feedback whilst recording and deafen your ears, ouch… Apart from that I don't have any complaints. I'm happy with my purchase and I think if you're looking for a budget friendly audio interface that is going to deliver excellent sound quality, with plenty of features and software included, then I'm sure the Focusrite Scarlett series is a superb choice for you. If you enjoyed this article feel free to check out my YouTube review. Also if you're looking for a broader range of interfaces from a low to high budget you can read my article The Best Audio Interfaces 2020.
What did you think of the sound quality of the Focusrite Scarlett series audio interface? Could you hear a difference with the air mode on? Let me know in the comments down below.
Chris